The Map Display shows an exact representation of the data that will be exported in the SVG file. The Map Display shows the Paper Size, the Margin and the passage lines relative to the paper. The Paper is outlined by a light-blue border. The margin area is show in gray and the accessible area of the paper is shown in white. As you make changes to the Paper Size, the Margin, the Rotation, View and Scale, the Map Display changes accordingly.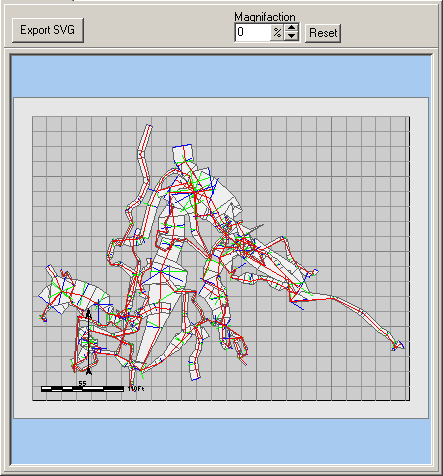 There are three controls at the top of the Map Display. Here is a complete description of each one.
Export SVG Button. Pressing this button exports the currently displayed map. Click here for a complete tutorial on export SVG maps.
Magnification. You can magnify the display by changing the magnify option at the top of the page. This magnifies the whole screen but does not change the scale of the cave. It is mostly used to make out more detail so you can more accurately position and scale the cave on the paper.