Wind Cave
This image is from the DOS COMPASS viewer. It is a display of Wind Cave in South Dakota USA. This cave is a National Park Cave. It is 76 miles long (123 kilometers), and 719 feet deep (219 meters). There are 18548 shots in the survey and 816 loops.
In this view, the cave has been rotated counter clockwise 20 degrees and tipped toward you 22 degress. In other words, you are viewing the cave from a point to the southwest, 22 degrees above the horizon. Color-by-depth has been turned on, so the cave is colored using 16 colors to indicate depth. Red is the highest and violet is the lowest.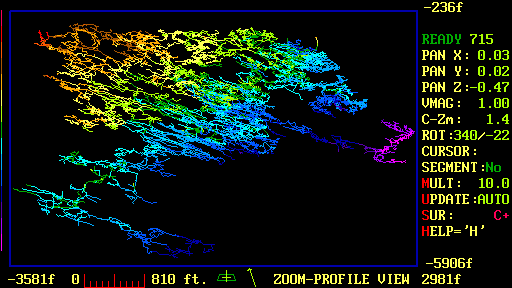 Let me explain some of the information shown in this display. The numbers at the corners of the image box are the distance from the entrance of the cave. The ruler gives the scale and the arrow shows rotation. The "flag pole" indicator just to the left of the arrow shows the pitch angle of the cave. The words "ZOOM-PROFILE VIEW" tells us that we have zoomed into the selection box and can do realtime pans, zooms and rotations. The information along the right side of the display shows the status of the display. This includes numerical values for pan, zoom and rotation, as well as survey control, measurement and clipping.